Transforming your living room décor can be perfectly done in just one minute. Repainting your walls, switching up window coverings with trendy ones, or perhaps buying a few furniture pieces are all great ideas for an update but often too timely and costly. To breathe new life into your home, new cushions are the simplest way to give your living room a refresh it deserves — they fit with many interior schemes and can be easily restyled to suit the new season trends.
To make your new cushions work for you and become a gorgeous focal point in the room may require you to artfully arrange them in a way that gives just the right impact to your décor scheme. To help you put your own style stamp in your home, below we have styled a basic lounge with different cushion collections to create 3 unique looks.
The above image shows a Mid Century Modern styled room showing off the most basic look — furniture and area rugin neutral colours, and a touch of few lovely accessories and artwork. Choosing the right cushions can accentuate this space to something far from basic. Let's get started…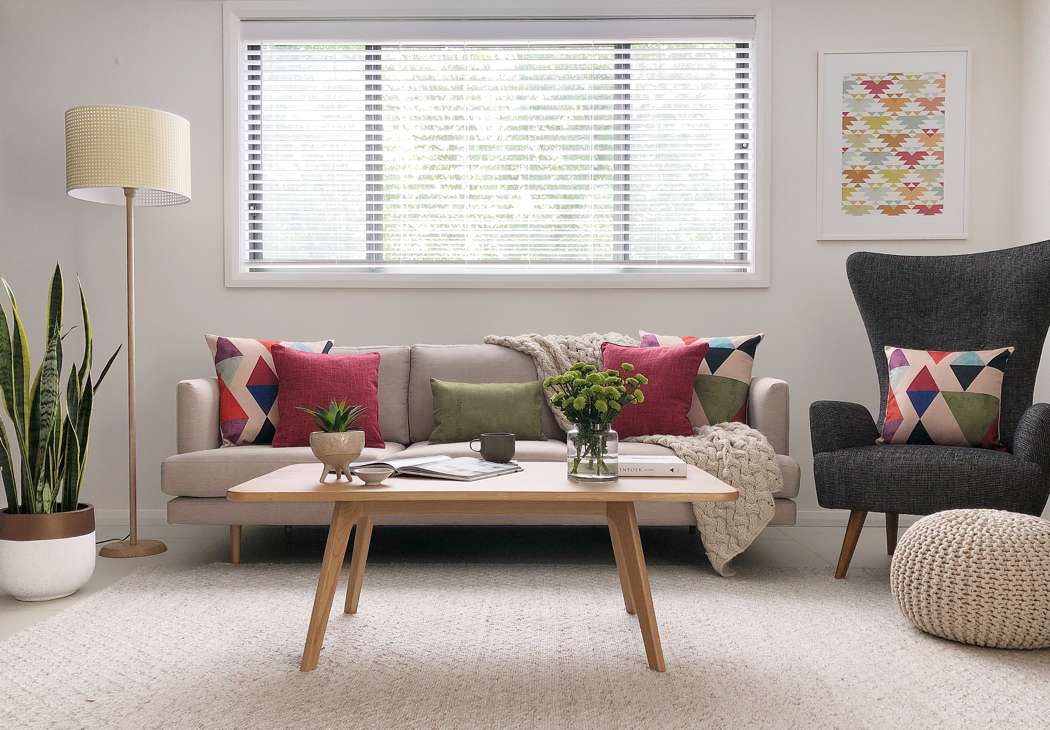 To create a gorgeous living room design scheme we added cushions from our Loki Pop Collection to complement the mid-century styled furniture as well as the graphic print above the grey armchair. This collection has instantly enriched the room's interior through both its colours and texture; and now inviting you to relax and unwind.
To create this look, drape the throw and team it with a few cushions as shown above. The two large geometric cushions act as the base and are placed at each end of the sofa, with the other placed upside down to illustrate the different colours within the pattern. To add consistency to the look, the geometric cushions highlight a repetition of colours and patterns found on the graphic print on the wall.
We then introduced two smaller sized cushions in block colour to our 55x55cm Loki bold print. Our Loki rectangular cushion in olive is perfectly centred; proving variety in shape and size. The classic 2-1-2 cushion arrangement offers a clearly defined look to a 3 seater sofa.
To pull the look together while adding more visual interest, we placed a smaller matching Loki Pop cushion on the armchair. The vibrant and bold hues contrast beautifully with the stunning dark grey chair.
Shop the look…
Not quite your style? We have recreated the same space, this time using our Wellsford Collection.
With this look, we focused on few signature pieces rather than over accessorising. The selected cushion collection draws few of its colours from the graphic print on the wall; and plays with a mix of patterned and plain cushions in varied shapes and sizes. The fur cushion lends just the right texture and warmth in place of the throw rug. To ground the look, we've introduced our plump velvet floor cushion.
For an artful and well-balanced arrangement, we've placed three cushions on one side of the sofa and two on the other. Here, we've used two large Camden grey cushions to act as the base, followed by slightly smaller cushions to add colour and texture. The gorgeous prints are from our cotton linen range. To complete the look, our popular Islington Ecru Fur cushion sits in the centre and acts as the perfect accessory to a room meant for relaxing and winding down.
 Shop the look…
Want more ideas? We have a third look for you to try out…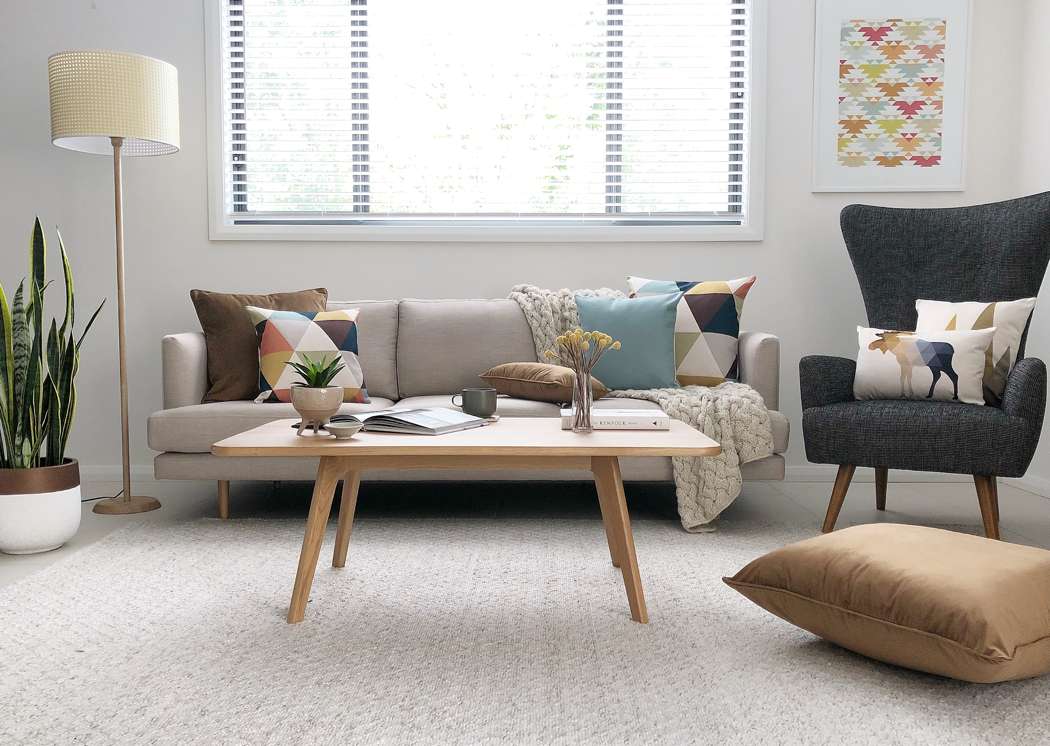 The softness and elegant simplicity of our Ellman Collection featuring our favourite moose, allows you to create an edgy and stylish Scandi look. In this look, we've brought back the cosy knit throw and added a mix of cushions that rest at each end of the sofa. Similarly, the cushions draw their colours from the graphic print on the wall. Mr Moose sits beautifully behind a simple abstract cushion on the dark armchair.
This Scandi inspired look includes the taupe block cushion from our velvet collection, as well as the soft teal block and patterned cushions from our cotton linen range. Finally, a stunning plump velvet floor cushion adds depth and extra dimension to the overall look.
Shop the look…
It's amazing how cushions can easily add a flourish of colour, texture and pattern into your space. In just one minute, you have yourself a living room that feels rich, cozy and inviting.
Our pre-styled collections ensure you have all the inspiration needed to create your own unique rooms aesthetic.
Shop collections