Linen Cushions
Our stunning collection of linen cushions in warm, neutral colours are the perfect pieces to infuse distinctive appeal and natural charm. Get creative and choose your favourite pieces online to start your decorating journey. Plus, you'll get free shipping on orders over $150 when you shop with us today.
---
How to use Linen Cushions
Inspired by nature, our linen cushions are extremely versatile and can fit in just about any decor and colour scheme. Spotlighting a casual and relaxed look, linen pieces are perfect for keeping the spirit of spring year-round - even at Christmas. If you're looking to craft a subdued interior aesthetic, white, navy, blue, brown and black are the perfect tones to balance out other natural furnishings for a complete organic statement. Opting for furniture pieces with a raw finish or live edge will really highlight the authentic beauty of our linen collection.
On the other hand, if you're feeling a bit daring and leaning towards a more vibrant room aesthetic, linen cushions can be layered beautifully with bright and bold throw blankets, bringing balance to the scheme of things and tying together all design elements in your interior space. For a decor setting that's dominated by muted base furnishings, linen pieces can be all you need to add a sense of warmth and texture to a room that would otherwise fall flat. Bring in touches of warm metallic accents to add to the depth of the room and complete your overall look.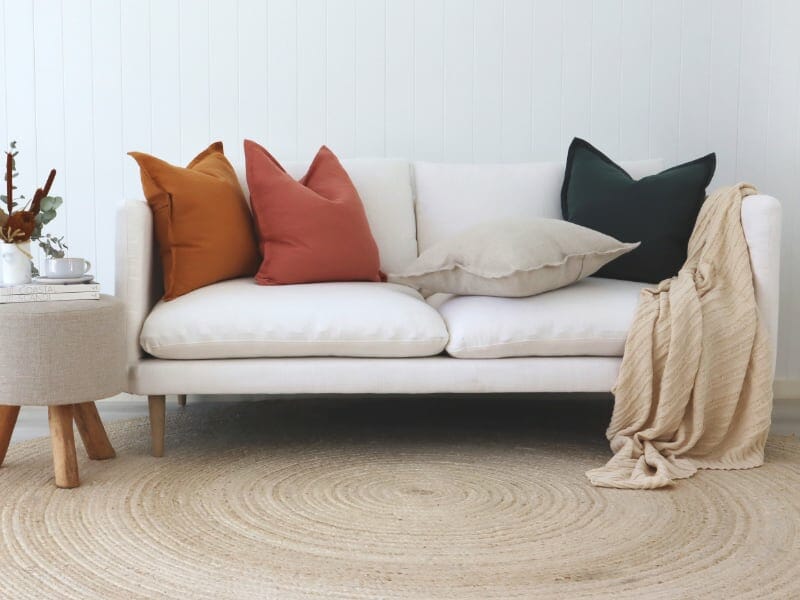 Plain linen cushion covers couple up brilliantly with playful summer colours to give your space an enchanting presence. Style white linen pieces with hues such as tangerine orange, bright teal, magenta, lemon yellow, or sky blue for a fun and laidback look. Similarly, neutral linen contrasts beautifully with deeply saturated winter tones for a cosy and cocooning effect. Think rich browns and greens paired with burgundy, golden mustard, rust, navy blue, or charcoal grey. It's hard to think of any colour, bold or subdued, that won't team effortlessly with our linen collection.
What's more, our linen cushion covers make for the perfect canvas to bring in and experiment with various textiles. Layering different textures can result in a look that's rich and full of visual weight. Style linen with similar light-weight fabrics such as cotton and muslin to evoke pared-back appeal that still feels modern. Linen pieces also work well with velvet and faux fur for a contemporary finish. With just the right blending of material tactility, your decor scheme is sure to prove that colour and pattern aren't the only route to crafting an alluring interior space.