What is the Mid Century Modern style?
Mid century modern style is characterized by clean aesthetics and evokes a timeless style which is closely associated with the period from the mid 1950s to the early 1960s. Quality material and sophisticated detailing is key to mid century modern style; and features the use of understated finishes, organic shapes, clean lines and minimal embellishment that are often sleek, functional and stylish.
The style is refined, uncomplicated and wonderfully comfortable — and achieves balance by relying on function, simple form and the use of fewer choice pieces. Denmark and Finland are key influence of this interior style, and home to some of mid century modern's leading designers. A growth in this movement became prominent in Australia after World War II, with designers such as Grant Featherston and Clement Meadmore pushing further this design trend.
Features, colours, patterns and textures
Using neutral, white, black and grey hues is the hallmark of mid century style and forms an elegant, crisp and clean canvas on which to build your décor scheme. Other earthy shades can be incorporated but in subtle accent hues such as olive green, pumpkin, orange, burnt umber and chocolate brown. Statement colours perfect for a sophisticated warm palette include taupe, turquoise, yellow and pink; and these can be added through accent accessories and soft furnishings.
Geometric prints, and repeated patterns found on glassware, wallpaper, drapery and throw cushions are key features in a mid century modern scheme. This style often features a masculine edge which is brought out by metallic finishes like silver and brass; and enhances its opulent and stylish aesthetics.
Creating a Mid Century Modern look with cushions
So how do you fit a mid century modern style into your own home? There are key rules to follow and we have coordinated a few cushions to make it easier for you to incorporate this style into your home and make it your own. Here's how you make it work…
Accessories to go with a Mid Century Modern look
When selecting accessories, it's important to choose key pieces that will accentuate the scheme without adding clutter or detracting from the overarching design feel. In this scene, the white forms a perfect backdrop for striking furniture and accessories. The timber coffee table, floor lamp, sofa and armchair add visual height to avoid the space from seeming too flat. The area rug adds texture and a warm and comfortable finish.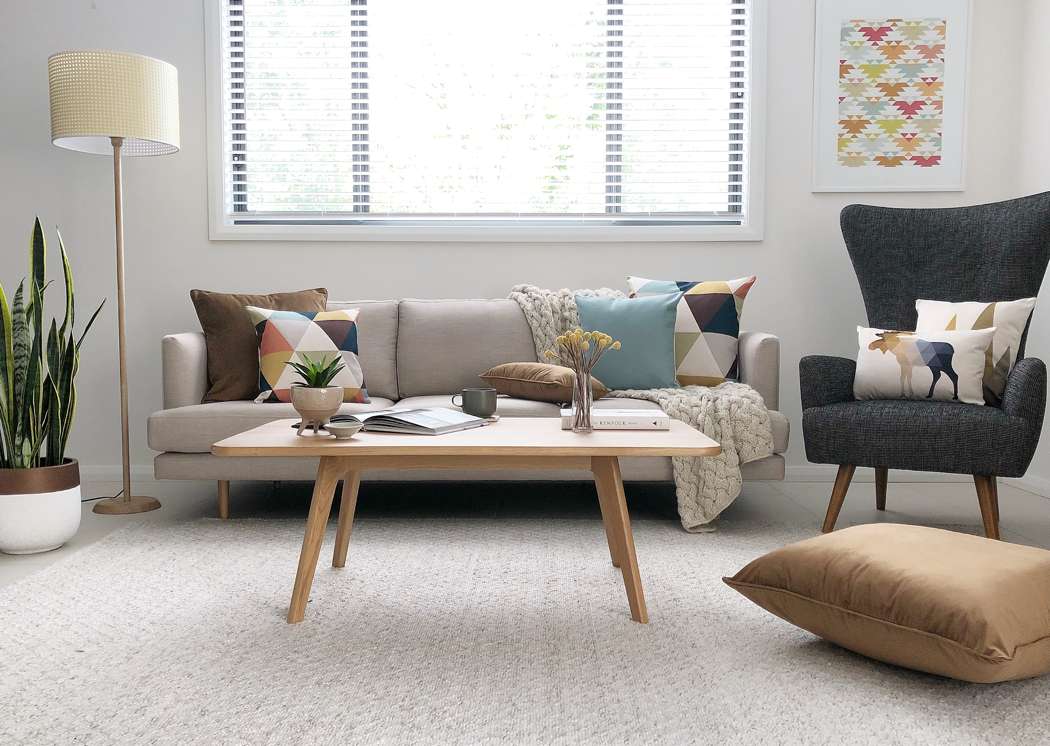 Look 1: Our Ellmann Collection
For this first look, we've opted for our Ellmann 7 Cushion Cover Collection which works well to blend mid century aesthetics with a Scandi appeal. It works pretty well when paired with a neutral background to create a relaxing haven that you need.
A large brown velvet cushion is brought in to offer a comfortable solid base, and teamed with our patterned Rudy Bold cushions in varied sizes. The graphic patterned cushions are a perfect marriage between a sleek and a distinctive contemporary touch. A single rectangular velvet cushion offer variation in size and shapes.
Our stunning teal cushion adds a unique interest to the scheme of things, and tone beautifully with the knitted throw and area rug. The potted indoor plants uplift the entire décor and bring a hint of the outdoors in.
To achieve a similar look, incorporate our Ellmann Collection into a neutral colour scheme. Add a few accessories to give the room a chic, Scandinavian edge.
Shop the look…
Look 2: Our Wellsford Collection
In this scene, we've selected our Wellsford 8 Cushion Cover Collection which lends a unique, sophisticated flair to the overall scheme.
We have introduced rich and vivid elements with two graphic patterned cushions in gold mustard, rust and pink hues. The large mid grey cushions add a tailored appearance and unify the entire look. To keep the décor scheme interesting, our plush Islington Ecru Fur cushion adds texture and depth, while the large floor cushion gives extra cosiness to the room.
You may achieve this look by using our Wellsford Collection and pairing it with soothing neutral colours, warm pleasant to the touch material and rich textures. Additions of indoor plants are an excellent choice for a fresh and organic finish.
Shop the look…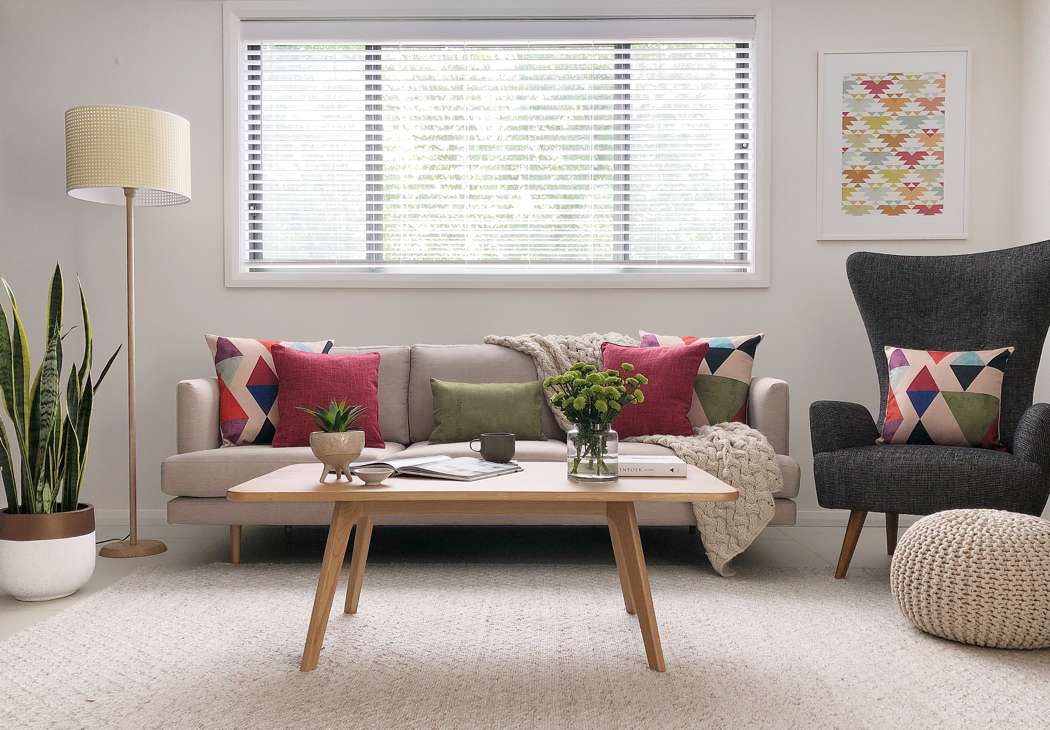 Look 3: Our Loki Pop Collection
This time we have opted for our Loki Pop 6 Cushion Cover Collection which features rich and vibrant hues that breathe life into a neutral colour palette.
In this scene, large graphic patterned cushions create a warm base and elevate the room's aesthetic appeal. In front of these, we've placed cushions in solid colours which contribute to a fresh, bright and happy feel to the room. To maintain a cosy feel, we've brought in a knitted throw for texture and a woven ottoman for casual lounging. The colours in this scene blend effortlessly together and exude a sense of calm to the room.
Create this look by adding our Loki Pop Collection and pairing it with a neutral sofa and other soft furnishings. Introduce different textures and allow the overall look to be both rich and restful.
Shop the look…
Other ways to incorporate Mid Century Modern style into your home
To achieve a mid century modern style, choose this collection and pair it with neutral furniture accents and soft furnishing and allow the existing teal accents to standout.
With this collection, textures and colours are inviting and playful; and can work really well if you are looking for a slightly feminine and chic mid century modern look. It pairs well with neutral, tan or chocolate brown accents and soft furnishings; and shines against mid to dark timber tones.
This collection is perfect for orchestrating an opulent and classic mid century modern look. To achieve a unique and purposeful feel, pair it with timber tones and other mid century inspired colours like greens, rusts, black and neutrals.
This collection works brilliantly if you favour a pared down and subtle nod to mid century modern interiors. It works well when teamed with soft furnishings in green and grey hues or light walnut to dark timber finishes.