When purchasing cushions it's important to consider a few design elements; from the right colours and textures right down to the perfect shapes and sizes. Follow our steps to find the perfect cushions for your space.
Step 1: Decide on a colour palette
Colour adds a flush of vibrancy to any room, and can bring an entirely new aspect to your room décor. When selecting cushions for your home keep your room's existing colours firmly in mind — and introduce colours complementary to other soft furnishings, artwork and furniture pieces.
Ideally, you may want to pick cushions that draw a single or few colours present in other decorative accessories.
If the room lacks colour, cushions are the best accents to inject new interest, fun and frivolity into your space. The idea is to ensure that the space works efficiently and that your selected cushions have a strong presence in creating your room's aesthetics.
The space below works brilliantly with a sense of style by incorporating colours present in the print on the wall and the rest of the accessories in the room.
The resulting look is both cohesive and harmonious — showing how you can enliven your décor with a flush of colour to even the simplest of spaces.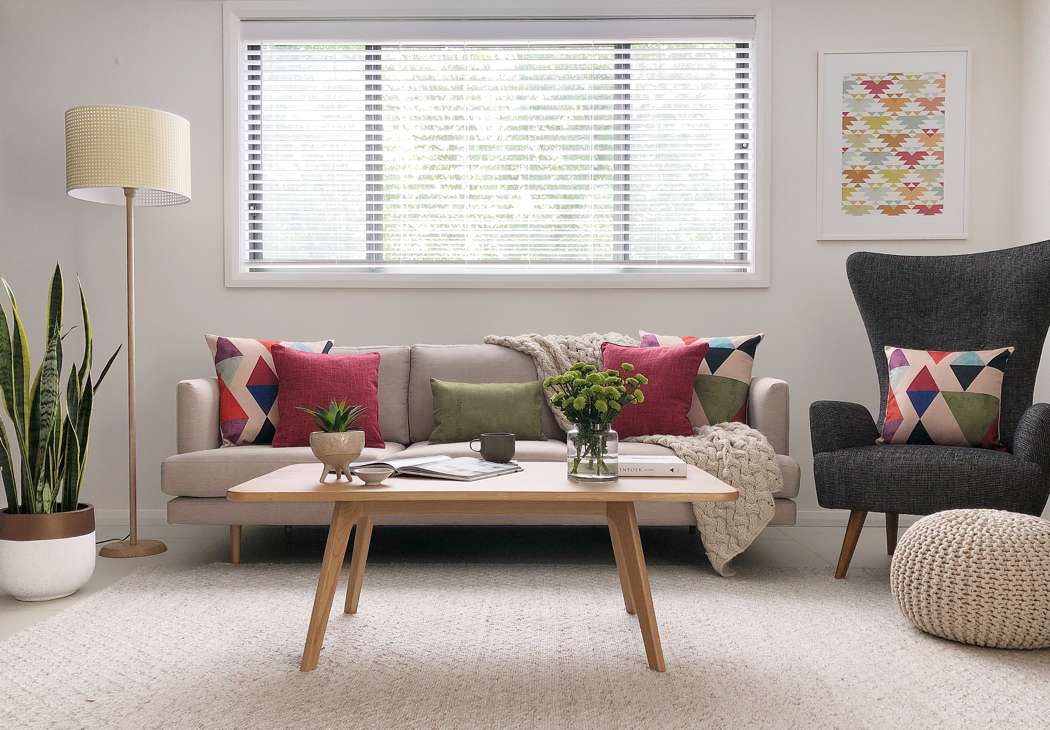 This room features our Loki Pop Collection
Step 2: Number of cushions to display
Deciding on the number of cushions to display will depend on the look you want to create — meaning, you may opt for fewer or more cushions.
For a truly traditional look with a designer edge, look to style symmetry by displaying cushions in even numbers.
Alternatively, to create a modern or eclectic yet exciting style, then an artful arrangement of cushions in odd numbers works perfectly.
Remember to always start your arrangement with the largest cushions, and then bring the smaller ones to the front. A single cushion works well in a one seater sofa, two to four cushions for a two seater and three to six cushions rest beautifully on a three seater couch.
When deciding on the number of cushions, the idea is not to overcrowd, but create balance and ultimate comfort.
This room features our Ellmann Cushion Collection
Step 3: Vary cushion size and shape
Your cushions don't need to be boring and predictable — different sizes and shapes add visual interest, extra comfort and support on the sofa. Creating rich depth with variation gives an edge and a modern look to your décor scheme.
You may want to choose large cushions in block colours that offer a contrast to the colour of your couch; then introduce a few slightly smaller 45cm x 45cm graphic cushions for a completely unique yet stylish look.
Add smaller 30cm x 50cm rectangular cushions to this arrangement; in colours drawn from either your upholstery or from the larger cushions. Oversized cushions make great floor accents and will add personality and lift your interior.
Alternatively, to help you reinforce a laid-back chic look, you may opt for cushions in varying sizes but with a similar design.
Create a layered look with about four or five cushions in matching patterns or hues and ensure that the cushion fabrics are soft and feel wonderful against your skin.
Step 4: Think about texture and material
The key to comfort is choosing the right material for your cushions and a great way to add interest and visual weight is incorporating different textures to your selection.
Mixing and matching different textures and fabrics is a perfect way to capture a cool, modern look and can really elevate your room décor especially when working with a monochromatic palette.
Fabrics such as velvet are a great pick for creating a sophisticated result and instantly add warmth to any space. Different textures and fabrics not only enliven your room, but can be used to create visual contrast.
For instance, velvet, wool and luscious faux fur are great against tufted leather furnishings — a combination that creates an elegant and opulent outcome.
This room features our Uppsala Cushion Collection.
Step 5: Create an artful arrangement
Cushions are a gorgeous way to bring colour, texture and a new dimension to an interior scheme; but how you arrange them is equally important to ensure that they don't lose their impact.
There aren't any hard and fast rules on how to place cushions; therefore they can be displayed in various ways depending on your desired style.
To bring in a formal look, try arranging cushions in even numbers; whereas odd numbers are great for achieving a more eclectic or modern look.
With most cushion arrangementS, it makes sense to always start with larger cushions, working the smaller ones to the front in order to obtain a balanced result.
This room features our Ashbury Collection
Happy styling!
Simply Cushions Team