What is the Boho Chic style?
Boho chic derives its style inspiration from the eclectic, richly artistic and carefree bohemian mystic of one who lives an unconventional life. Bohemian, which comes from the French word "gypsy", is a perfect blend of Mediterranean, India, Morocco and Southeast Asia influences — and combines unique objects, colours, patterns from all walks of life.
This style evokes individual expression with its popular aesthetics drawn from the 19th century. Boho Chic style mixes the old and new; with variety and diversity in bright fabrics and patterns, juxtaposing furniture pieces with newer modern ones, travel memoirs, wall hangings, intriguing artwork and sculptures.
Features, colours, patterns and textures
Boho chic style supersedes any decorating dos and don'ts and is characterised by lots of vibrant colours; electric blue, deep brown, fuchsia, striking red, saturated purple, emerald green, fiery orange and other busy jewel tones. These shine confidently against white walls and earthy plants.
Textile and varied fabrics are prominent in Boho Chic style. There is great emphasis created by layering different patterns; from rugs, to tapestries and cushions in all shapes. The style embraces handmade items and unique craftsmanship. Materials popular with this style include sisal, burlap, silk and plush velvet — showcasing intricate patterns inspired by tribal and ethnic designs.
Creating a Boho Chic look with cushions
To really bring Boho Chic style to life, you should be able to mix and match ideas. We have curated a few cushions from our various collections which we hope will inspire you to create an enchanting Boho Chic look in every room of your home. Here's how you put it together…
Accessories to go with a Boho Chic look
Before deciding on your cushion selection, it's important to bring together the right accessories for a special and comfortable atmosphere. The trick to acing this décor style is incorporating furniture pieces and décor accents that tell a story and bring out your true personality. Adorn your walls with beloved handmade and odd accessories; fill your space with a mix of old and new furniture and dress them up with layers and layers of colourful textiles and fabrics.
Look 1: Our Allegra Collection
In this scene, we've added our Allegra 6 Cushion Cover Collection which features confident classic Boho colours perfect for a well-travelled and well-lived person.
The pink velvet block cushions really anchors the room and offer an excellent contrast against the dark wall. To bring out the fullness of pink, we added graphic cushions to boost the overall colour scheme and lend a chic look that's effortless and stylish.
In addition, the pink and patterned rectangular cushions bring some freshness with varied shapes and sizes. The white plush fur cushion and the fur wall ornament create a cosy space full of life. For variation in texture, we've incorporated furniture pieces, rugs and woven planters which add a rich and natural finish.
To achieve a similar look yourself, pick our Allegra collection and pair it with neutral decorative accents and soft furnishings in different textures. Bring in the outdoors with indoor plants for a relaxed and organic look.
Shop the look…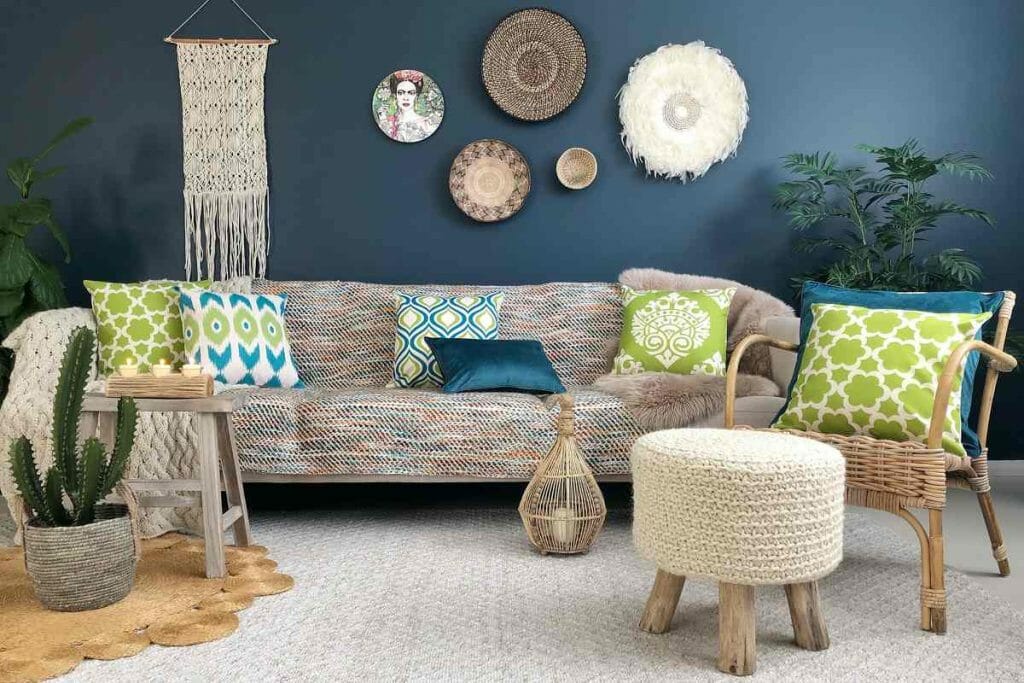 Look 2: Our Ifrane Collection
For this second look, we've selected our Ifrane 7 Cushion Cover Collection which evokes a coastal inspired bohemian look with a pinch of Moroccan influence that will cosy up your home in an instant.
Here, graphic cushions in bright teal and lime hues take centre stage and provide a striking palette and a breezy elegant style. The choice of cushions flow effortlessly with the wall colour and adds a soft touch to the heavy knits and woven, natural materials. We then created a layered look with the wool and fur throw to give the décor scheme a true bohemian look it deserves.
To create this look, add a dose of our Ifrane Collection to a neutral sofa. Introduce knitted and woven textile for a playful and layered look that oozes quality and Moroccan charm.
Shop the look…
Look 3: Our Sahara Collection
The last scene includes our Sahara 6 Cushion Cover Collection rich in both texture and colour. Here, we've mixed various textures such as velvet and cotton linen in punches of yellow and teal.
To enliven the décor scheme, we incorporated graphic patterned cushions for bright and airy feel. The teal velvet floor cushion adds softness to the rich rug in neutral shade which provides both warmth and texture. The selected colours, pattern details and textures hark back to the origins of bohemian style and lend a fresh, collected look.
If this style works for you, you can achieve a similar look with our Sahara Collection and pair it with soft furnishings that sport a slightly worn appearance. For a well curated look, bring in a variety of seating such as crocheted stools and white-washed wooden chairs. Add unique and intriguing wall hangings and ornaments that have been passed down to you or bought from your local flea market.
Shop the look…
Other ways to incorporate Boho Chic style into your home
If you prefer a classic Boho Chic look with purple detailing, then this is a sure pick for your décor scheme. This collection is perfect for enhancing a neutral palette and complements purple, pale pink or lime toned soft furnishings.
This collection works well in creating a bohemian style that is uncomplicated and fuss-free but still highlighting excellent use of colour. It infuses the use of different textures and colours for a chic and stylish boho effect and can be easily paired with neutral, teal, pale pink and rust red soft furnishings and accents.
Choose this collection to enhance a range of eastern motifs with splashes of teal and yellow. Team this collection with soft furnishings and accent pieces that sport neutral, gold and light brown hues.
This collections brings together a muted multi tonal boho look; with great emphasis on texture and bohemian patterns without having to do much with bright and bold colours. It works brilliantly when combined with other soft furnishing in pastels and primary colours.