What is the Scandi style
With a focus on simplicity, minimalism and functionality; Scandi style is for those in favour of relaxed warmth over sleek minimalism. There is great appreciation for craftsmanship and understated elegance; with high emphasis on clean lines, natural materials, rich textural elements and a slight rustic edge.
Scandi style is praised for its lack of fuss; its unpretentious and simple in style — and to truly capture its essence, the interiors are uncluttered and left to their minimal aesthetics. The style flourished in Nordic countries of Denmark, Norway, Iceland, Sweden and Finland; with its handcraft traditions leading to the mid-century modern style of the 1960s ad 1970s when every Australian adobe indulged in Parker furnishings with influences of Scandinavian designs.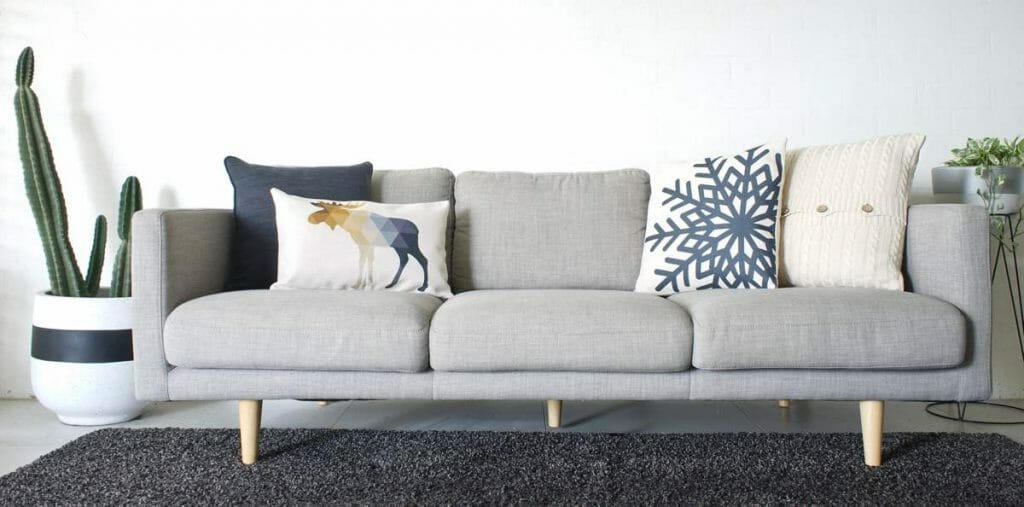 Features, colours, patterns and textures 
Scandi style is characterised by a monochromatic palette of soft greys incorporated to create a serene minimalist backdrop. Cool and warm whites also make for great blank slates to introduce a pop of colour; from soft pastel shades — soft pink, washes of mint green and delicate duck egg blue, to black accents. Natural materials such as blonde timber, soft and tactile sheepskin and tan leather bring in warmth. Mixing textures and materials like fur rugs, soft linen, wicker elements and indoor greenery creates a gorgeous balanced interior and a restful ambience that this style is commonly known for.
There is a secret ingredient to Scandi style that the Danes can't get enough of, referred to as hygge.Although hygge (pronounced hoo-ga) doesn't have a direct English translation; roughly speaking, it means "cosy" and it's an integral part of Danish living; incorporating a sense of warmth, well-being and nourishing the soul with the good things in life, particularly during the winter season.
Creating a Scandi look with cushions
So how do you incorporate cushions to create a Scandi style look? Below, we have pulled together different looks with pre-styled cushion collections to help you recreate a Copenhagen (or Oslo or Stockholm or Helsinki) look in your own home. Let's get started…
Accessories to go with a Scandi look
Scandi style embraces form and function — with emphasis on clean lines and strong silhouettes. In the scene below, the deep blue wall is both striking and calming; and makes a great background for white and black prints. The room features furnishings in natural materials which are rooted in Nordic tradition, such as the timber coffee table, leather couch and the hand-woven rug — which essentially add touches of warmth.
Scandi Look 1: Our Uppsala Collection
In this first scene, we've added our Uppsala Collection It presents a grey colour theme, perfect for creating a Scandi look with a subtle Boho influence.
Here, two large space grey velvet cushions act as then base; then we added graphic patterned cushions which pop against the dark solid colours and prevent the room from seeming cold. A single rectangular velvet cushion sits beautifully between the larger cushions and adds variety in shape and size.
For an irresistibly comfy sofa experience, we added our Islington Ecru Faux Fur Cushion and the fur throw for depth and texture. The blonde timber coffee table, wool throw, indoor plants and candle are great finishing touches for an elegant yet warm and inviting Scandi look.
To achieve a similar look, pair our Uppsala Collection with a neutral, grey or black couch. Then accessorise to bring a unique edge to your Scandi aesthetics.
Shop the look…
Scandi Look 2: The Tillsyn Collection
For this look, we've opted for our Tillsyn collection which offers a more literal Scandi look. The collection features designs and a colour palette that is typically used in a classic Scandinavian interior.
In this scene, the cushion collection displays distinctly Scandinavian pine tree and snowflakes motifs, as well as stripes which add visual interest and a playful nature to the décor scheme. Our favourite moose adds a dramatic aspect to this cushion arrangement, while the plain navy cushion and cable knit cushion help to anchor the room and highlight the feeling of hyggeligt that inspires you to relax and cosy up.
To easily create this look, team our Tillsyn collection with soft furnishings that incorporate cool neutral, greys and blonde tones for a stylishly understated scheme.
Shop the look…
Scandi Look 3: Our Dia Collection
This time we have selected our Dia Collection for a pinch of quintessential modern Scandi aesthetics. This collection focuses on keeping colour to a minimum, with varied motifs that are fresh and on trend.
Two large striped Dia cushions act as the base for a range of patterned cushions. Finishing touches are introduced through our plain faux fur cushion and cable knit cushion to bring warmth and texture.
To create a similar look yourself, keep things neutral, but play with layering complementary shades by bringing in our Dia Collection. Add candles, indoor plants and warm materials such as timber for an ultimate Scandi style.
Shop the look…
Other ways to incorporate Scandi style into your home
To achieve a contemporary Scandinavian look with rich, textural elements, then this collection may be a perfect pick. It pairs effortlessly with all neutrals and offers variation in colour to bring out other accent pieces.
Soft pastels such as muted pink and grey are introduced in this collection to bring a pop of colour and texture. To complement this collection, team it with neutrals, greys or washed out black soft furnishings for a unique and chic Scandi vibe.
If bright and bold isn't for you, try this collection to introduce muted multi-textured and tonal look with a nod to Scandi motifs. This collection pairs seamlessly well with neutral, pale pink, aqua or pale brown soft furnishings.
This collection is perfect for additional texture and subtle influences of Scandinavian décor. The grey and gold theme performs flawlessly to evoke a sophisticated flair that enhances darker spaces or light furniture. Pair it with neutrals, black, dark navy and grey toned soft furnishings. To complete the look with interest and depth, add some gold accent pieces.